Almost 80% of Internet-connected TV viewers use their tablets or smartphones while watching television. In the worldwide $200B TV advertising market, advertisers have been more creative and innovative to capture viewer attention and maintain the effectiveness of their commercials.
Sync2Ad synchronizes the TV commercial with a rich multimedia experience delivered instantaneously on smartphones and tablets. The advertiser can thus produce more effective commercials that enhance the brand and directly measure the impact.
A brand new approach for brands: The smartphone or tablet reacts immediately when a commercial is aired on television or radio, with no viewer/listener or network action needed. Sync2Ad can deliver a targeted ad, including: quizzes, casual games, coupons, promotional messages, etc … based on a viewer's location, demographics, device, etc…
« The American networks have told us that Sync2Ad is a real game changer for the advertising market« , says Laurent Weill, Chairman of Visiware. Sync2Ad, patent pending, will launch in the USA in December with a major TV sports network and internationally, in France in Q1 2014.
With the recent launches of second screen applications for Professional Football (USA), Disney (USA, Canada, and GB), Equidia (France), and ESPN-Sync (USA and Latin America), by the end of 2013 Visiware will have already used its second screen platform, Sync2TV, on 1,500 shows in 21 countries. The company is also providing support for 24 of the biggest television networks such as ESPN, Disney/ABC, Fox, ITV, France Télévision, TF1, M6, TV2, Antenna3, and ZDF in their campaign to conquer second screen audiences.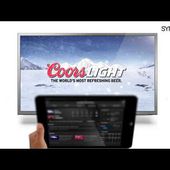 A new way of enhancing the second screen and TV advertising. Visiware has a complete turnkey solution for channels and advertisers.